July 5, 2016
New York Employer Support of the Guard and Reserve, a Department of Defense program, announced that attorneys Jack Wilk, James Kennedy and Stephen Albert, together with office administrator Mary Micari of Wilk Auslander LLP were honored June 28 with individual Patriot Awards in recognition of extraordinary support of their employee serving in the Reserves forces of the United States of America.
They were nominated for being highly supportive of the Reserves forces of the United States by Sgt. 1st Class Mark Agard who serves in the New York Army National Guard.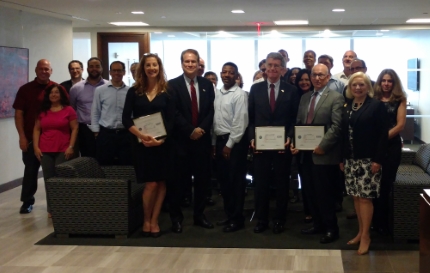 "The Patriot Award was created by ESGR to publicly recognize individuals who provide outstanding patriotic support and cooperation to their employees, who like the citizen warriors before them, have answered their nation's call to serve," said Dennis Lutz, New York ESGR state chair. Supportive supervisors are critical to maintaining the strength and readiness of the nation's Guard and Reserve units."
According to New York City area chair, Mary Westmoreland, "They were all so proud of the work that Sgt. 1st Class Agard, Wilk Auslander operations manager, has done with the National Guard. He has deployed twice since 2008 and has maintained amazing support for his efforts with the Armed Forces."
ESGR seeks to foster a culture in which all employers support and value the employment and military service of members of the National Guard and Reserve in the United States. ESGR facilitates and promotes a cooperative culture of employer support for National Guard and Reserve service by developing and advocating mutually beneficial initiatives, recognizing outstanding employer support, increasing awareness of applicable laws and policies, resolving potential conflicts between employers and their service members, and acting as the employers' principal advocate within the Department of Defense. Paramount to ESGR's mission is encouraging employment of Guardsmen and Reservists who bring integrity, global perspective and proven leadership to the civilian workforce.
For more information about ESGR outreach programs or volunteer opportunities, call 1-800-336-4590 or visit www.ESGR.mil.