December 10, 2015
Helping Women and Empowering them to Change Their Lives

The plight of homeless women and children are close the heart of Mort Goldfein, real estate counsel at the firm. Thirty years ago his wife, Judy, was involved in the creation of Women In Need, now known as Win, and she still is active on the board.
Win focuses on providing shelter for homeless New York City women and children combined with programs and services that are essential to allowing these families to move forward independently. Win's approach is both progressive and holistic and does not only remedy symptoms (homelessness) but seeks to empower women to make lasting changes for themselves and their children. Win's life-changing process starts with safe, clean housing and includes vital programs and services such as job training, child care and life skills and health and wellness programs. On an average night Win houses 4,500 people, including 2,700 children. Win provides shelter for almost ten percent of homeless families in New York City.
In supporting Win over the years, Mort and Judy have participated in dozens of fund raisers and have introduced many friends and colleagues to the organization. A little over a year ago, Mort mentioned the group to Hillary Jury, a partner in the real estate group at the firm with whom he has a long standing relationship. Hillary, known at the firm and by her clients for her incredible work ethic, is herself active in a number of charitable organizations. Once she learned about Win, its mission, and the amazing work the organization does, she dove in with the same tenacity and focus she applies to her work for the firm's clients.
During the past year, Hillary has become Chair of Win Partners, a group that recruits professionals in a variety of industries, including commercial real estate, finance and technology, to provide resources to Win, participate in volunteer and outreach activities and raise funds for WIN programs. In its inaugural year, Win Partners raised more than $250,000 for Camp Win, a ten-week specialized day program that serves over 1,000 homeless children each summer and provides activities during Winter and Spring breaks — helping school age children maintain their educational focus while allowing their moms to focus on rebuilding their lives.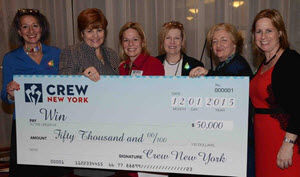 Hillary is also a member of CREW New York, the top professional organization in New York City for women in commercial real estate. CREW has been a long-time supporter of Win – and this year CREW members fulfilled holiday wish lists for more than 580 children living in WIN shelters, hosted its annual Christmas party in the Bronx for Win families on December 11th and donated $50,000 to Win.
Additionally, for the past two years, Wilk Auslander staff and attorneys have provided gifts for thirty children living in Win shelters each holiday season.
Cheers to Judy and Mort for their involvement and hard work with Win through the years and congratulations to Hillary for stepping up, getting involved and making such a major impact.
To learn more about Win, visit its website at: http://winnyc.org/